I've been quite disappointed with how autofill works on Android for a while now, and let me be entirely clear - I know it's not your fault, but the system's.
Note: Ex-Android developer, I'll talk about implementation stuff below.
So, you come to a page in Chrome or an app on your phone that you need to log into, and autofill doesn't work for some reason (it's impossible to nail all the different scenarios, you can search the forums for other users having trouble with this, and it's because Google hasn't left a solid framework for autofill to work with, and even if it did, everyone would have to support it, and alas, not everyone does).
Issues:
In order to log in, you need to start 1Password either normally or as a multiwindow app, in order to copy over your credentials and log in.
You get no suggestions from 1Pass (I really see no workaround for this one, though).
Entering multiwindow mode has become very cumbersome on stock Android 10 and later devices, where you have to go into multitasking, click on the icon of the app you want to have in the multitasking view, and then click on the Split Screen option from the popup menu, and then either select 1Pass from the list of your recently ran apps (if you did recently run it), or run it normally from your launcher as you would. It's quite a pain to use. Again, not faulting 1Pass here, that's just how the system works.
Some apps (like Instagram) straight-up refuse to work in multiwindow mode, and in that case, you have to resort to app switching - hitting Home, going to 1Pass, authenticating, looking for your password, then copying what you need to copy, going back into the other app, and probably repeating some of these steps, if you're copying both the username and the password.
[Maybe the biggest issue for me] Disturbing the lifecycle of the app that we want to log into leads to the app behaving less than ideally, i.e. some might kick you out of the login screen, because they handle Android's configuration changes poorly. This just makes the whole experience feel very fragile and sometimes even painful to use.
My question to the 1Pass team is this:
Would it be possible to make a dedicated floating window option, like Facebook's Messenger has done? To me, the perfect combination would be a Quick Setting that would bring up a floating bubble of the 1Pass icon that you can click on and get the full app running in a window that overlays other windows, just like Messenger does. You then copy what you need to copy, search for what you need, whatever, all without disturbing the lifecycle of the app that we want to log into.
Example of a floating icon: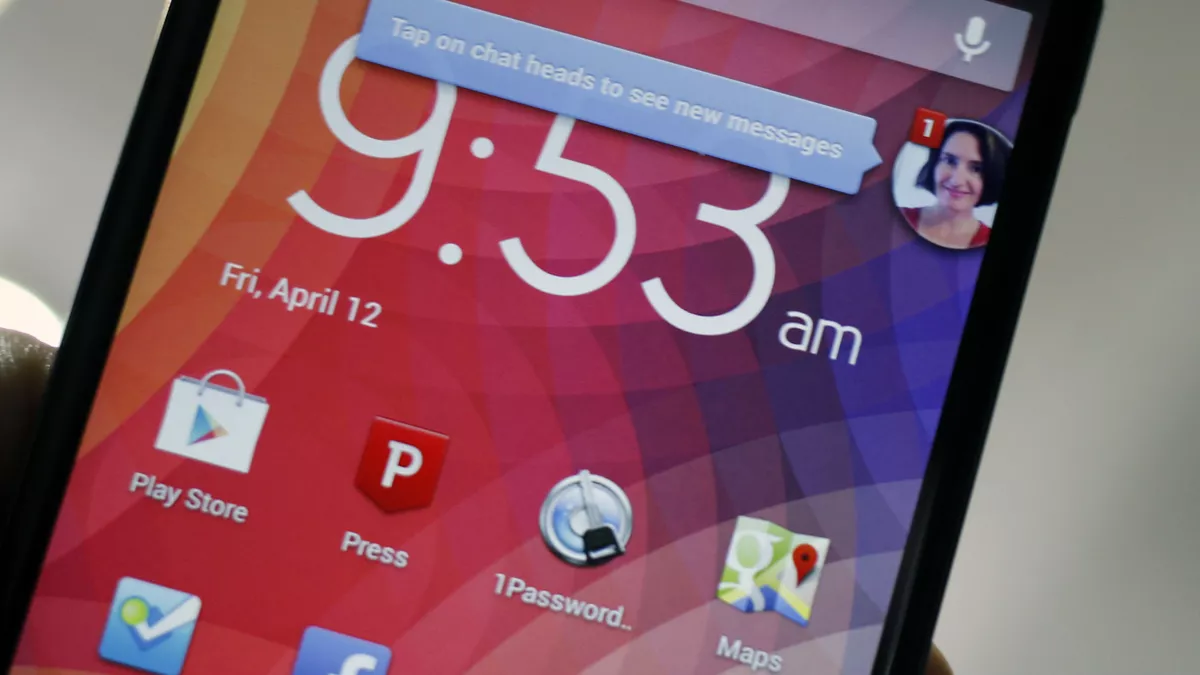 Example of the floating window mechanism:
The main thing to note is that it overlays your current window, without disrupting its lifecycle. It is also much easier to switch between apps multiple times like this.
Background and research I've done so far
What I thought would solve my issues is putting 1Pass into a floating window via the system or a third-party app that allows that. However, I soon learned that it's not as easy as I thought it would be, and that it would definitely involve some development.
There's a Developer Option for Freeform Windows on Android, but it's quite half-baked. You can start 1Password in a floating window, and it works properly - no problems there. The main issue is that there is a limitation in WindowManager, that makes all windows that are started latest go on top. So, I could bring up 1Pass, make it freeform, and then go into the app I want to log into, only to have that app completely obscure 1Pass because of how WindowManager works. Read more about the limitations . It's a great resource on using floating windows in general.
A workaround would be to start both apps in freeform mode, but because of how you get to freeform mode (and multiwindow mode, for that matter), it's not really all that more convenient than just cycling through two apps. I didn't test this out, and it maybe doesn't even work for all I know.
Android has deprecated the old , but there's a new one called , that allows for the functionality that's needed. Using this should not be the same as using freeform windows, and it should work better (Messenger has been using it for ages, although it seems that they ).
I know that this is a huge post, and I'm sorry for that. I would also like to thank you for the beautiful app, I've been using the paid version for a while now and it's generally a joy to use, only constrained by the system restrictions on each system it's on (for example, I think the Mac version is the pinnacle of 1Pass - it works amazingly well).
This is not a feature request, just a question about how the team feels about this at all. I would like to know what you think and do you see if this could improve our experience, which is constrained by Android itself. Again, thanks for all your hard work!
---
1Password Version: 7.7.2
Extension Version: Not Provided
OS Version: Android 11
Sync Type: 1Pass