Hi! I need some help

I am migrating from LastPass, so I created my account on a desktop browser to use the 14 days trial.
When I downloaded the Iphone app I accidently bought a 6 Month subscription promotion from the App Store before I got logged in the app.
The problem is:
The App Store and the iOS App shows that I subscribed to a 6 month period, and after that my subscription would change to a monthly one. The next payment will be in 21/08/2021.
The WebVersion of 1passworld says I am in a 14 day trial, and I will be billed an annually subscription in 07/03/2021
As I already payed the 6 month subscrition, I would like to not be charged in 07/03, but I am not sure if that will happen
OBS: the second image is in Brazilian Portuguese. It says "R$ 36,90 fo 6 months" / "Renews on 21/08/2021" / "When your trial period ends your subscription will be renewed for R$14,90, unless you cancel it till 20/08/2021"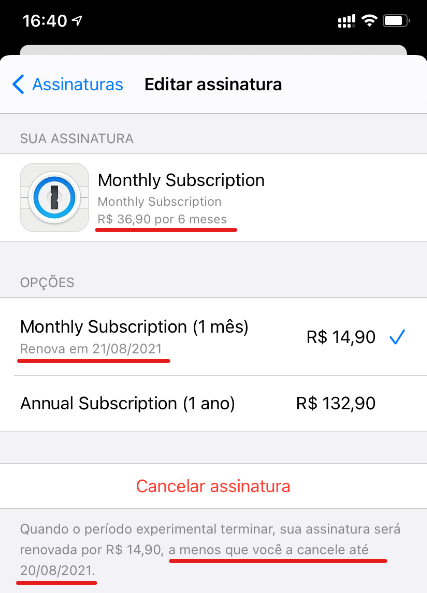 ---
1Password Version: Not Provided
Extension Version: Not Provided
OS Version: Not Provided
Sync Type: Not Provided