1Password for Linux 8.3 update 🎉
Today's release includes 99 100 changes since our last update! 🤯
You can now securely share items with people outside of your family or company accounts. 🎉 In fact, you can securely share your items with anyone, even those who aren't using 1Password yet. 🔐
It's as easy as copy-and-paste but way more secure than placing private information in chats or email. Just select Share... from the item details overflow menu.
You can choose when the link will expire and have the option to limit the share to specific email addresses. Once created you can share the link using Signal, iMessage, SMS, Slack, or otherwise.
Once your friend, colleague, or family member opens the link they can view the item directly in their browser. 😍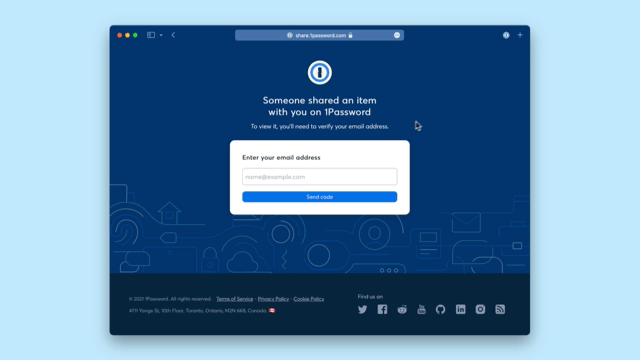 The really cool part of this is the link itself contains the share secret so only you and those you share the link with will be able to view the item.
Let's start with the highlights, kicking off with a ton of improvements to Quick Access. Advancements range from design enhancements to better performance to new features.
Quick Access is now context aware and will automatically highlight items that match any apps you have open when launched.
You can also use advanced search filters to zero in on exactly what you're looking for.
The =vault:$name and =tag:$name are likely to be the most popular but you can also use =category:$name to filter by category and =favorite to only include items that are marked as a favourite.
All names are case sensitive and we do our best to support spaces and other special characters within names. In a future update we'll add support in the UI itself for constructing the advanced search.
Once you find the item you're looking for, select it to reveal several quick actions.
Those of you with sharp eyes will have already spotted something wonderful in the above screenshot. That's right, custom icons! 🙌🏻 Items with customized icons can now be seen throughout the app, from item details to item lists, Quick Find, and search results. 😍
The Back and Forward navigation buttons have also retured! 😍
I say "returned" as we had these buttons early in development process and needed to remove them temporarily while we sorted a few things out. I'm super excited they're back as they make navigating around 1Password so much nicer.
I find the back button especially lovely when I'm editing an item and need to copy something from another item. Now I can go find the second item, open it in a new window, and then press the back button to return to where I was. ⚡️
Watchtower Dashboard also got redesigned with new fonts, layout tweaks, and button styles. 😍
And Watchtower now shows Unsecured Website alerts only on sites that have a secure option available.
Nestled right beside Archive you'll now find Recently Deleted items. This enables you to quickly view items you previously removed without needing to leave the app. 🥰
When creating new vaults you can now choose which account it should be created in. 💙
Last but not certainly not least, you can now use security keys (like YubiKey or Titan) as your second factor when adding new accounts or reauthorizing devices. 🙌🏼
If you haven't enabled your security key on your 1Password account yet, here's how:
Learn how to set up a security key, like YubiKey or Titan, so you can use it for two-factor authentication in 1Password.
Note that you can still use standard one-time passwords when needed, such as on devices that do not support security keys, or incase you lose your dongle.
Other notable changes include:
Lots of keyboard improvements, including customization
A ton of improvements for screen readers
Using LZO compression to improve the startup times for Snapcraft
Checkout our release notes for a detailed changelog of everything that's new in 8.3. ✨
You can always download the latest stable release on our website. If you're feeling adventurous, you can try out our beta Linux releases. You can also install early access releases of 1Password for Windows and 1Password for Mac.
I hope you love this new release as much as we loved creating it for you! ❤️
Comments
This discussion has been closed.