Hey folks!
I'm happy to report that we have a new episode out now!
Here's what you can expect from today's episode:
Has a Google AI chatbot become sentient? And will a U.S. ban on the sale of location and health data make a difference? Join us this episode to find out, as we discuss everything from savory croissants to cross-site browser cookies. 🥐🍪
We also invite Scott Lougheed, 1Password's Manager of Education & Training, to the show, to celebrate the launch of Insights from 1Password: An intuitive new dashboard for 1Password Business users. Settle in for This Week at 1Password, as we give you the lowdown on how to monitor and mitigate security risks across your business. 📈
Take a listen on Simplecast
Take a listen on Apple Podcasts
Watch on YouTube: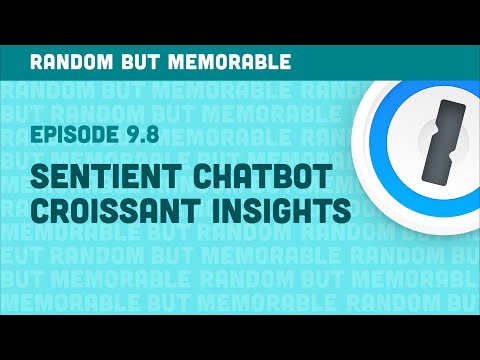 If you'd like to get in touch with the show you can ask us anything by using the #Ask1Password hashtag on Twitter, or by sending us an email at: [email protected]
Feel free to start a discussion down in the comments – we'd love to hear your thoughts on today's show! Plus, if you're loving Random But Memorable already, please consider leaving us a review on Apple Podcasts or wherever you're listening.
Thanks again for tuning in and I hope you enjoy today's episode!
Anna
---
1Password Version: Not Provided
Extension Version: Not Provided
OS Version: Not Provided
Browser:_ Not Provided