Hi folks!
We have a big update for you today. Enjoy using 1Password in your browser but wish it could be integrated with 1Password for a quick unlock with Windows Hello?
Good news, we now support browser integration support with 1Password in your browser; allowing you to unlock it with Windows Hello, keep it unlocked while restarting browsers or even switching between multiple browsers and so much more to come soon.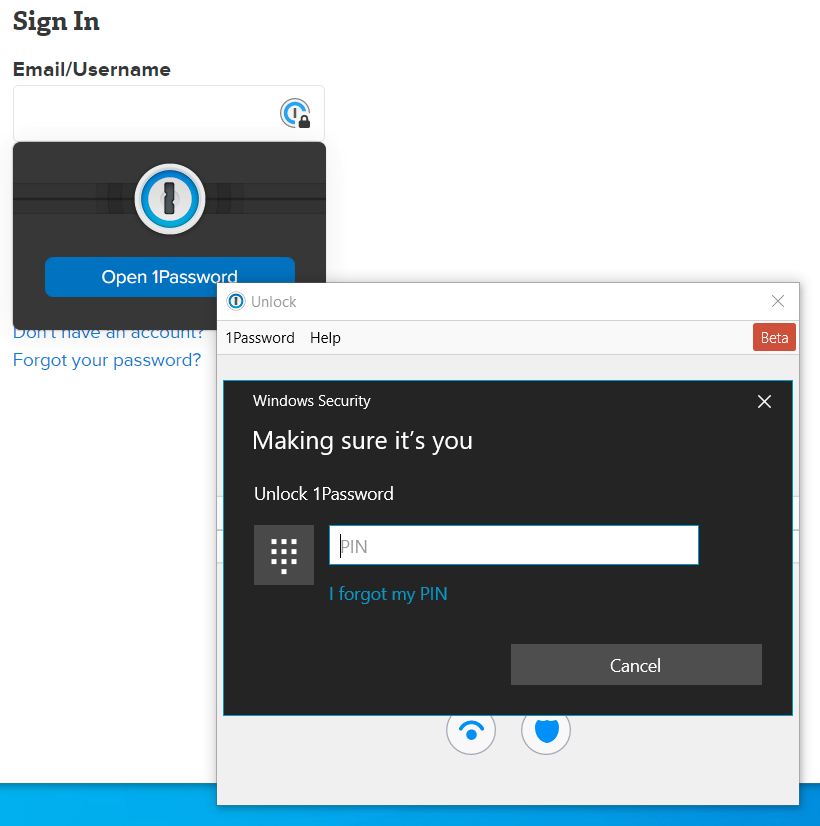 For now, this new browser integration requires 1Password 1.25.5 beta to be installed before you can use it with 1Password for Windows.
Note that Open and Fill and Edit/View in 1Password are not yet supported but will be implemented soon.
Changelog
7.6.801-BETA released on 05/10/2021
[IMPROVED] Updated the Set up Another Device window to include the account details below the setup code to be consistent with all 1Password apps. {OPW-4999}
[IMPROVED] Added support for placeholder text in item categories in 1Password.com accounts. {OPW-5001}
[FIXED] Fixed an issue where unknown field type messages were only shown in the editor instead of both the details viewer and editor. {OPW-5004}
[FIXED] Underscores were incorrectly excluded from the email address when viewing the account details in the Account submenus. {OPW-4973}
[FIXED] Fixed a regression introduced in the last beta update where some old 1Password databases may have missing user metadata that could prevent some 1Password accounts from updating. {OPW-2482}
[FIXED] Fixed some crashes that were reported to us via the crash submission reports, thank you! {OPW-4991}
[SECURITY] Hardened our DLL injection protection against custom library paths. {OPW-2449}
7.6.800-BETA released on 05/04/2021
[NEW] Unlocking 1Password for Windows will automatically unlock 1Password in the browser and Windows Hello is supported! {OPW-!2456}
[NEW] 1Password in your browser will remain unlocked after restarting it as long as the main 1Password for Windows app remains unlocked. {OPW-!2456}
[NEW] Signing in to new 1Password account via your browser can now be added to your 1Password for Windows app as well. {OPW-!2456}
[NEW] Sign out of 1Password account in the desktop app will also remove it from 1Password in your browser. {OPW-!2456}
[FIXED] Credit card item's dates were not incorrectly shown when the system is set to specific Japanese date formats. {OPW-4980}
[FIXED] Fixed incorrect storage used and total storage shown for 1Password accounts in the diagnostics report. {OPW-5002}
[FIXED] Diagnostics report didn't pick up the system's crash reports for 1Password processes. {OPW-4984}