I'm just trying out Brave browser in stable release v1.39.111 (May 24, 2022) together with the 1Password extension beta build v2.3.7.
I recognize that my custom icons often are not shown in the inline popup. For example, on 1Password Support Community...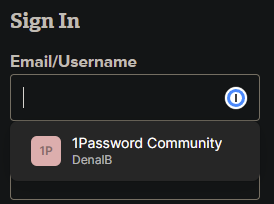 Clicking the extension icon in the top shows my custom icon.
In Vivaldi stable release v5.2.2623.48 my custom icons are shown in the inline popup.
In both browsers, the setting Show app and website icons is disabled. But it doesn't matter if it's enabled in Brave browser.
What could be the problem here? How can I fix this behavior? Any idea? 🤔
---
1Password Version: 8.8.0-104 beta
Extension Version: 2.3.7 beta
OS Version: Windows 11