Hello, everyone, and welcome to February!
This week's release is exciting. While we have our normal batch of bug fixes and user interface improvements, today we're able to give you a feature you've wanted for a while!
New Items
You can now create new items in 1Password for Linux! This is the culmination of many weeks of work, building atop the same infrastructure that we've built for editing items and creating vault collections. The team has been hard at work, and I am so excited to see this going out to you today!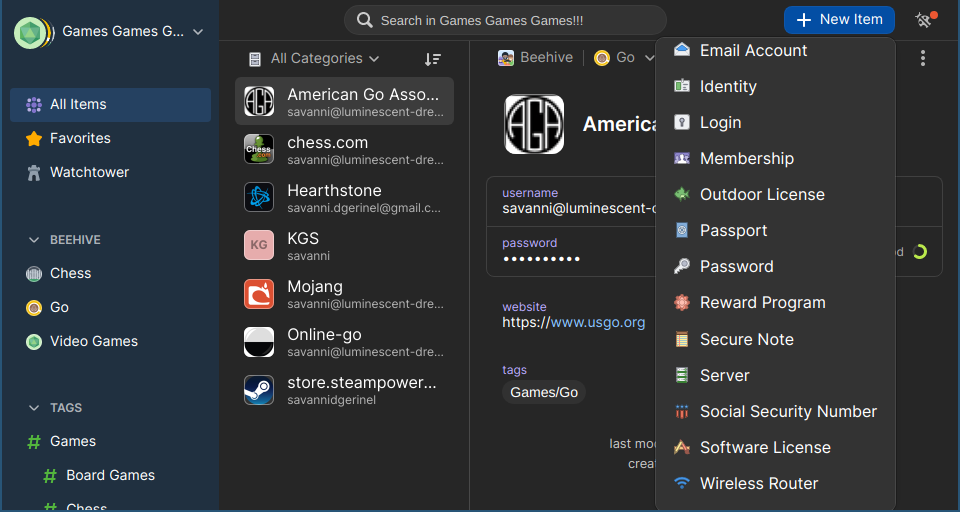 Screen Readers
It came to my attention recently that 1Password for Linux is not working with screen readers. After some investigation, I found that the Electron infrastructure by default does not emit the necessary information to work with screen readers. If you are running into this problem, you can enable screen reader support in 1Password by setting an environment variable:
ACCESSIBILITY_ENABLED=1
I set this in my .bashrc file and then restarted my session.
We believe that accessibility through a screen reader is not optional, and all teams have been adding the tags to make screen readers work well. I am now running 1Password daily with the screen reader turned on, and am noting places where we can make things better.
Installing and upgrading
Go to the getting started guide for instructions on installing or updating 1Password.
We made a mistake when we created 0.9.10, which some of you noticed. If /opt and /usr are on separate filesystems, 1Password 0.9.10 would not install due to a hard linking issue. That has now been fixed in 0.9.11. Happy installing!
As always, thank you so much for using 1Password and for all of the reports you send in that help us make our service better.